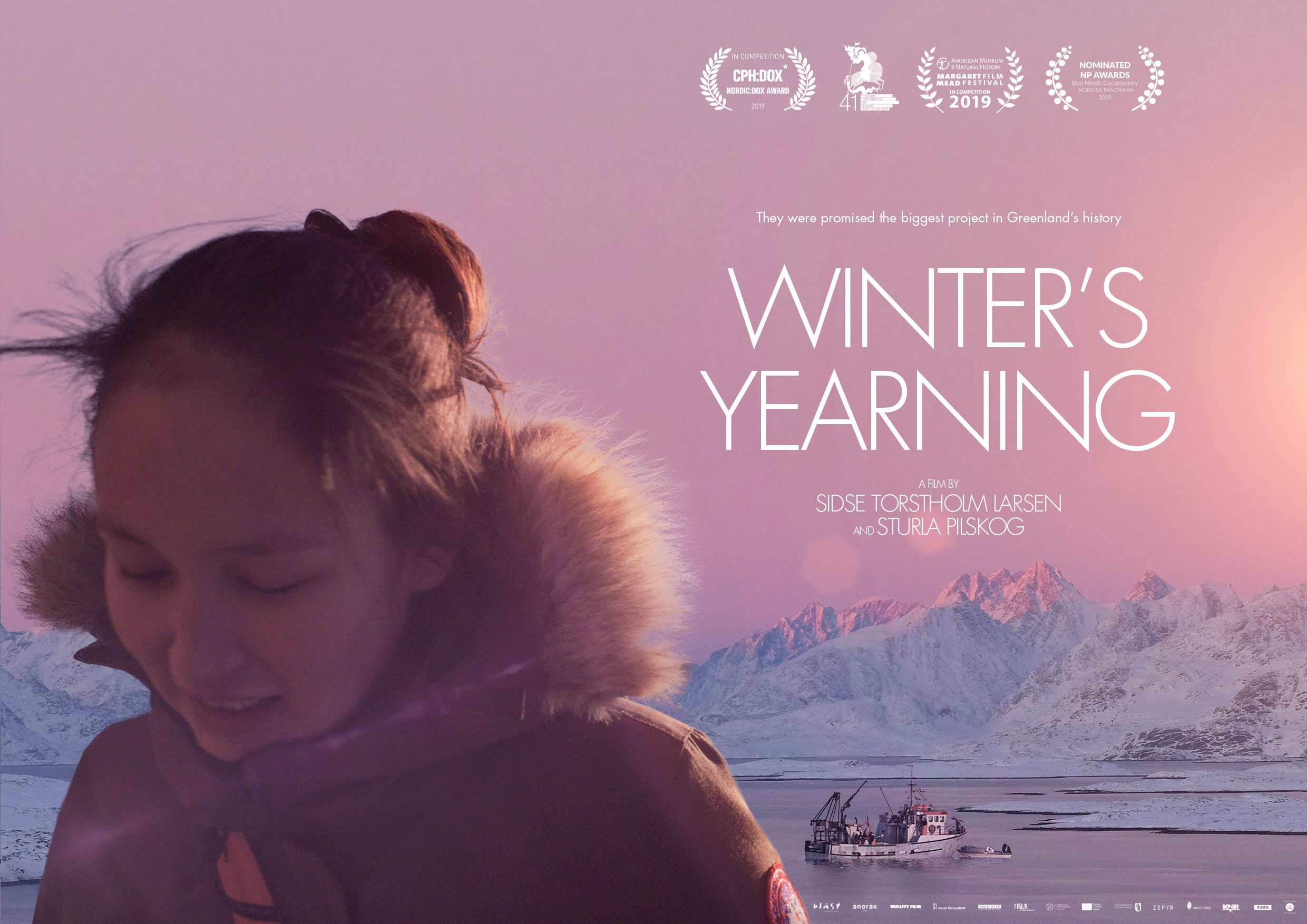 This portrait film is exceptional, excellent. It's a mix of narratives, situations and atmosphere that help us see Maniitsoq, Greenland, the complex relationship Greenland has with Denmark, and what it is to be human with responsibilities and dependencies.
«Winter's Yearning» is a cinematic film about dreams, lives on hold and the human capacity to rise again.
When the American aluminium giant ALCOA decides to build their next aluminium plant in Maniitsoq, Greenland, the citizens of the small finishing town have high hopes. Could this be the first major step towards Greenlandic independence? But as years go by and ALCOA is nowhere to be seen, the people of Maniitsoq fall into a state of waiting. The future has been postponed, but for how long?
A social worker, a young woman, and the town's aluminium coordinator are the main protagonists in this portray of a small society that yearns for change and progress. A progress that in the end comes from an unexpected place.
Directed by
Sidse Torstholm Larsen & Sturla Pilskog
77 & 52 min
Produced by Blåst Film (Norway),
Bullitt Film (Denmark) & Ánorâk Film (Greenland)
International Sales & Distribution:
Cat & Docs
«The ground-level view offered by Winter's Yearning is affecting in its attention to detail: the distinctive seascape and cut of the land as well as the everyday struggles, personal and political, of the people who live there. Self-sufficiency and community converge in the notes of hope at the end of the film's three central stories — an open-ended hope that's as unforced as this quietly probing documentary.»
"Winter's Yearning is an excellent film. Carefully and reasonable, but without hesitating, we derive at the heart of Greenland's situation as it looks like today. We are brought there through the lives of Gideon, Peter and Kirsten. Three different characters that in a surprising and efficient way complement each other. Kirsten's life sheds light on Gideons work as a therapist, while Peter is trying to get Maniitsoq out of a difficult economic situation. They haven't lost hope yet, winter's yearning is facing a spring we all hope is coming. But while waiting we have gotten to know three people that are both ordinary and unique at the same time."
«In a world beholden only to material interests, human lives recede into the background. It does not have to be this way, at least in the small worlds we create for ourselves to make the larger one tolerable.»
Allow yourself the pleasure of watching this beautiful, remarkable film about the Greenland I know so well. What do you do when the promise of the big aluminium industry project – your town's economic savior – fails to materialize? You turn your camera focus where it's really needed.
I really like how the men are presented in the film. When speaking of Greenland, there is a tendency to talk of the men as being closed. It's touching and so powerful to get to know men in the film who are really level-headed and honest – emotionally naked. It is one of the film's great strengths
She is beautiful, the cinematography is beautiful, it is beautiful listening to what she says.  The sub-titles for this wonderful slow language should have been translated with as much care as is given any great literary work. The scene is beautiful, Henrik Bohn Ipsen is the cinematographer, and I cannot praise him enough. The cinematography alone lays the foundation for another classical, major work about a town – in this case Maniitsoq, Greenland.
Larsen and Pilskog are patient, attentive, and very humanistic filmmakers. Just by paying attention to their subjects, without much embellishment or additional narrative, they're able to get to the very core of Greenland's challenges, as reflected in the longing of the protagonists.
I don't think I've ever watched a better and more authentic film about Greenlanders and their concerns. Thank you!
This is a film many should watch. It describes the political situation and the lives, thoughts and feelings of Greenlanders. In Denmark, it's really popular to feel sorry for Greenlanders, and this pity is disempowering. This is a film about Greenlanders who are not stricken by catastrophes. Rather, they live normal lives as do most Greenlanders. I really hope it gains momentum and gets a wide distribution here in Denmark. It's really needed.
«From snowstorms to the calm, comforting crunch of freshly fallen snow; from community therapy sessions to fish factories; from older men speaking earnestly in a sauna to younger people getting wasted at the local bar – people are complex and nations multifarious, and Winter's Yearning refuses to simplify its subjects.»

FILM FACTS & CREDITS
Duration: 77′ / 52′ – HD, 2K, 4k
Location: Maniitsoq, Greenland
Language: Greenlandic (English & Danish)
Subtitles: English
A production by Blåst Film (Norway)
in co-production with Bullitt Film (Denmark) & Ánorâk Film (Greenland)
Directors: Sidse Torstholm Larsen & Sturla Pilskog
Written & developed by: Sidse Torstholm Larsen & Sturla Pilskog
Cinematography: Henrik Bohn Ipsen
Editor: Åsa Mossberg
Sound designer & Mixer: Niels Arild
Music by: Sebastian Öberg
Colorist: Mats Andersen
Poster design: Mia Sehlin
Producers: Sturla Pilskog & Are Kvalnes Pilskog
Co-producers: Vibeke Vogel, Emile Hertling Péronard & Inuk Silis Høegh
Supported by Norwegian Film Institute, Western Norway Film Centre, Danish Film Institute, Fond for lyd og bilde, EU MEDIA, The Greenlandic Self Rule Government, Zefyr Media Fund, Freedom of Speech Foundation, KNR (Greenlandic Broadcaster) & DR.
Developed during NFI:LAB Til Forum 2013, EDN:Twelve for the Future 2014 & EURODOC 2017